Hey lovelies! 🙂
To start off this brand new week, I'm doing the #DaysOfTheWeekInBooks !
Monday (book you're too lazy to read) – Heir of Fire, which is the 3rd book in the Throne of Glass series by Sarah J. Maas. The first two were good, second one better than the first one and the series felt like it has a potential, but I know for the fact that each next sequel gets bigger in terms of page numbers. I am not a fan of long books, it is easy to forget or miss out on details when you're drowning in information and I'm not sure that I want to commit to it right now.
Tuesday (favourite Harry Potter book) – You know I am a big fan of original Harry Potter series and my favourite is definitely Harry Potter and the Prisoner of Azkaban. Sirius is an incredibly written character, his backstory – the rejection of his family's ways and creating a new life for himself – is particularly an interesting one. Introduction of him as a character in this particular book was phenomenal, it really made me live through the story with him.
Wednesday (book that you never finished) – The book that I never finished and never will, and I have to burn my copy of it, is The Road to Los Angeles by John Fante. It features Arturo Bandini as an alter ego of Fante's, who is struggling to make it as a writer in LA. That book is simply too much, it made me feel as if I was going crazy while reading it. If you don't know about this book, you're better off, don't even look it up, don't waste your time as I have.
Thursday (book who's world you would like to visit) – There is so many, but one of them includes the world from the Witcher stories. As far as I know, in its entirety it is called the Continent, but it includes places such as Temeria, Skellige and many more. The universe is vast, filled with variety of creatures and characters – elves, dwarfs, witchers, etc. It reminds me about the Middle-Earth to a certain degree. The opportunities of the world are endless and that's what makes it so unique and interesting.
Friday (book that you can't wait to start reading) – I am actually really excited to start reading Shatter Me. I have heard nothing but positive reviews about the series overall, it has been sitting on my shelf for weeks now and the premise sounds really intriguing! Juliette's touch is fatal. As long as she doesn't hurt anyone else, no one really cares. The world is too busy crumbling to pieces to pay attention to a 17-year-old girl. Maybe Juliette is more than a tortured soul stuffed into a poisonous body. Maybe she's exactly what they need right now. Juliette has to make a choice: Be a weapon. Or be a warrior.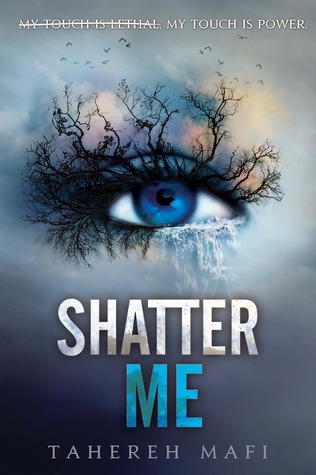 Saturday (book that you want to reread) –I want to reread The Faults in Our Stars at some point this year. I enjoyed this book tremendously years ago when I first read it. Being awfully, awfully, disappointed by John Green's latest Turtles All the Way Down, I have to restore my faith in him and I think TFIOS is the way to do it! I've never actually seen the movie adaptation either, so it will be nice to reread it before I watch it. I might actually write a post on how that particular movie differs from the book, would you be interested to read it? 😀
Sunday (book that was too short) – A book that was too short is a relative term, in my mind it relates to a book that I found so enjoyable, I wish it didn't have to end. There has been so many books like that, I cannot pick just one. Caraval, Witcher series, Animal farm, The Book Thief, pretty much any book I ever rated 5 stars.
And that's it from me for today, hope you enjoyed this Hashtag post!
Until next time, Dream On, Dreamers!